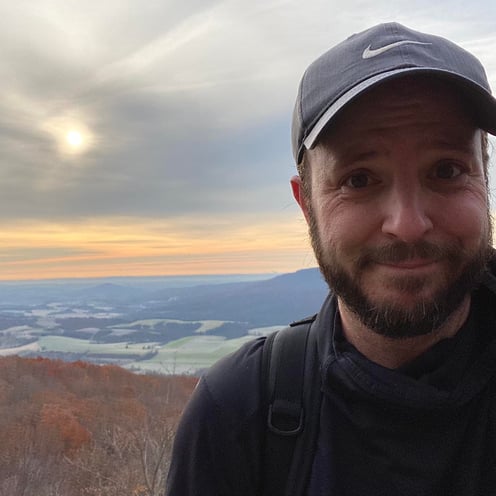 In brief:
I am a professor of Communication Studies whose research and teaching focuses on new media, rhetorical and critical theory, film, video games, public memory, activism and politics, autoethnography, and pedagogy.
Official Bio (from Bloomsburg University of Pennsylvania):
Dr. Heineman's research interests are located at the intersection of rhetorical/critical theory and new media technologies. A firm believer in public-facing scholarship, he publishes and exhibits his work across both academic and popular contexts.
Most recently, Dr. Heineman directed the nonverbal documentary feature NEPADOC, a film that explores the intersections of environment, industry, and identity in Northeastern Pennsylvania over the past 300 years. Inspired by non-verbal documentary film landmarks such as "Koyaanisqatsi" and "Baraka," the film blends 4K cinematography, local historical footage, and a sweeping score into a dizzying and contemplative meditation on culture, place, and public memory. Previously, he directed the short autoethnographic film The Pandemic Nature Project, which juxtaposed calming imagery of the natural world against the collective fear and social chaos sparked by the global COVID-19 crisis. Dr. Heineman's films have been presented at international conferences and symposia and screened at juried film festivals.
Dr. Heineman is also author of the book Thinking About Video Games: Interviews With the Experts (Indiana University Press, 2015), which combines interviews and critical essays to offer insights into the past, present, and future of video games, the field of Game Studies, and the video game industry. He was recently featured on NPR's "Pop Life" podcast, discussing some of this research. He is also co-author (with Barbara Warnick) of Rhetoric Online: The Politics of New Media (Peter Lang, 2012), which considers the impact of digital technologies in both electoral politics and activist movements.
Dr. Heineman's scholarship has also focused on topics such as public memory, film, virtual reality, pedagogy, and gender. Dr. Heineman has research interests in visual rhetoric, the rhetoric of science and technology, and narrative theory. He has published essays and other original work in scholarly journals such as New Media and Society and The Journal of Games Criticism and on popular media sites like Kotaku and The Solute. He has served as a reviewer for highly regarded journals including The Western Journal of Communication, New Media and Society, and Communication Quarterly and for organizations such as the National Endowment for the Humanities (USA) and the Royal Society of New Zealand Te Apārangi.
Dr. Heineman teaches courses such as New Media and Visual Culture, Community Leadership, Introduction to Game Studies, Rhetorical Criticism, Understanding Social Influence (rhetorical theory), Gender Issues in Communication, Persuasion in Popular Film, and Issue and Image Campaigns. He teaches introductory courses such as Communication in Everyday Life and Public Speaking and has also taught two interdisciplinary courses – The Art, History, and Culture of Video Games and Prison Scholarship (the latter of which is taught at The State Correctional Institute at Mahanoy).
In addition to his research and teaching, Dr. Heineman is active in areas of service. He has chaired the Bloomsburg University Tenure Committee and the College of Liberal Arts Curriculum Committee, served on various search and evaluation committees across campus, served as an advisor to the Lambda Pi Eta Communication Studies National Honor Society, chaired departmental program review, and is typically involved in a wide array of university, college, and departmental committees. In addition to organizing events such as public film screenings and various research symposia, he regularly gives invited lectures on campus and serves as a moderator for university colloquia.
Dr. Heineman earned his Ph.D. in Communication Studies from the University of Iowa, where his dissertation work focused on hacktivism. He earned Master's and Bachelor's degrees from Syracuse University's Department of Communication and Rhetorical Studies.
This site is an ongoing effort to create a sort of "interactive CV". It serves as a place for me to collect ideas, archive work, and share the outcomes of various professional and personal projects.